☰ MENU
Services
Proudly serving the Dallas area since 1976.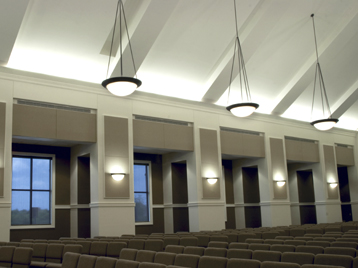 Tape & Bed
Because it is so easily taken for granted, few people understand the true importance of a quality tape and bed job. This often overlooked step is actually an art form that can make or break the overall appearance of a project. Our tape and bed craftsmen are skilled at treating each drywall joint to provide the smoothest possible surface, free of lap marks, pits and edges. They are aware of critical lighting conditions and make every effort to minimize crowning. After finishing, all drywall surfaces are then sanded and primed. This makes any blemishes and imperfections that may have gone unnoticed easier to recognize. Then, using a critical eye, they touch up any such imperfections and spot prime as needed. The goal is to ensure a perfectly smooth primed surface BEFORE any finish coats of paint are applied. In short, they strive to make every drywall surface the very best that it can be.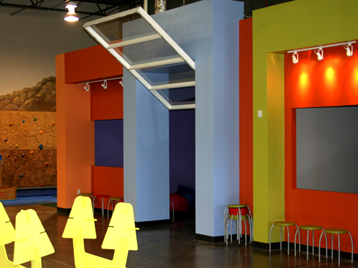 Painting
A quality paint job begins with quality materials. Painting is labor intensive and to use inferior or overly thinned materials not only wastes valuable labor, but provides an inferior end result. R.L. Harkins, Inc. uses only top professional quality primers and paints. We do not "water down" our paints, but use them at the heaviest consistency that can be properly applied. Our painters are skilled and knowledgeable in the proper application methods of brush, roll and spray. The result is a properly painted surface. PDCA standards define a properly painted surface as follows: "It is one that is uniform in appearance, color and sheen. It is one that is free of foreign material, lumps, skins, runs, sags, holidays, misses, strike-through, or insufficient coverage. It is a surface which is free of drips, spatters, spills or overspray." At R.L. Harkins, Inc., we recognize this PDCA standard as the minimum acceptable product. We continuously strive for an even higher standard, the utmost satisfaction of every customer.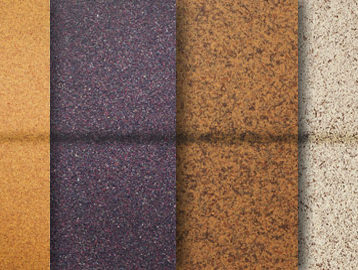 Multicolor Coating Sytems
We are proficient in the application of all of the major multicolor coatings systems including, Polomyx, Zolatone and Crafton. Multicolor coatings are seamless, spray-applied paint systems. As the name suggests, multicolor coatings contain two or more colors within the same paint. They provide a finish that is visually more complex than standard paints and is dimensionally layered. Depending on the colors and size of the specks utilized, the effect may range from subtle tone-on-tones to dramatic stone finishes. When properly applied, they touchup well and are durable and cleanable. At R.L. Harkins, Inc. our spray technicians are expertly trained in the proper application of multicolor coatings. We make sure that the surface is completely covered by the multicolor coating so that our customers get the full range of benefits that the manufacturer intended.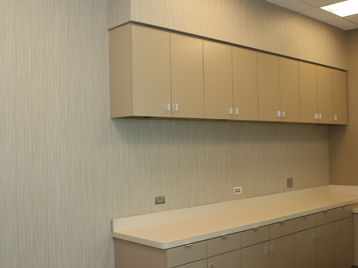 Wallcoverings (General)
We furnish and install all types of wallcoverings, including but not limited to 54" vinyl wallcoverings, fabrics and textiles, wallpapers, borders, stringcloths, corks, dry-erase and murals. Although closely tied to painting, wallcovering installation is really it's own trade. To remain completely proficient in wallcovering installation, one must work at it exclusively. For this reason, we utilize the services of wallcovering subcontractors who have proven to share our commitment to quality. Our subcontractors install wallcovering exclusively. They are extremely skilled and knowledgeable in all aspects of wallcovering installation and we have the utmost confidence in their abilities. Our expertise and knowledge base in wallcovering installation is furthered by the fact that our founder, our operations manager and one of our project managers were all previously wallcovering installers!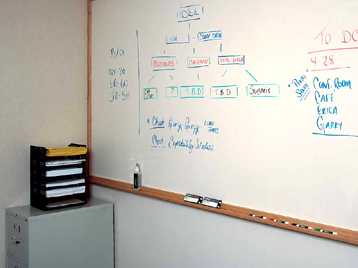 Dry-Erase and Projection Wallcoverings
Now you can write on your walls! Dry-erase wallcoverings combine the convenience of dry-erase with the versatility of wallcovering. They may be applied over an entire wall or framed with trims and/or a marker tray. R.L. Harkins, Inc. can furnish and install any dry-erase wallcovering, including the popular Walltalkers and Panel Graphics product lines. For even more versatility, Walltalkers Erase-Rite and Nu-Vu Rite can double as projection screen surfaces. Combining dry-erase with a magnet attractant surface, Walltalkers Mag-Rite provides a light-duty magnet attractant surface capable of holding up light papers. (For a MUCH stronger magnet attractant surface, see "Magnet Walls" below.) We are also proficient in the installation of the Walltalkers line of aluminum trims, paper rails, tack rails and marker trays.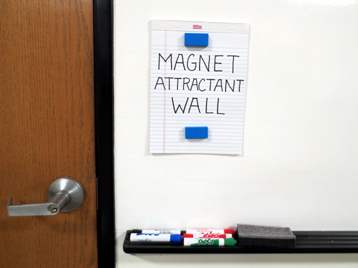 Magnet Attractant Wall Surfaces
When a very strong magnet attractant surface is desired, consider our custom magnet attractant wall surface (called "magnet wall" for short). Our magnet walls include 26 gauge sheet metal covered in your choice of vinyl or dry-erase wallcoverings. Now you can hold up more than just a few measly pieces of paper. Using a 2" x 1" x ½" magnet on your magnet wall, you can anchor a whole pad (3/8" x 3" x 3") or poster! PICTURED: Two magnets easily hold up a 8 1/2″ x 11″ pad with cardboard back. This wall is covered in Walltalkers Just-Rite with gridlines for dry-erase versatility. Walltalkers marker tray with end caps at the bottom and aluminum trim at the top match the black pre-finished door frame at either end to frame this multi-purpose wall. The best part is that your magnet wall will be indistinguishable from any other vinyl wallcovering or dry-erase surface. The installation of a magnet wall is a multi-step process and each step is absolutely critical. We have perfected a system to create beautiful magnet walls every time. They are worry-free and made to last. This results in repeat business for us and long-term satisfaction for our customers.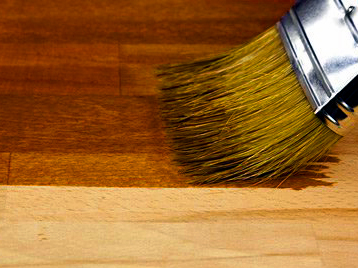 Wood Finishes
In keeping with our policy to limit ourselves to those services that we can stand behind with 100% quality assurance, we perform only on-site door and millwork finishing. We do not shop finish millwork. As such, we use exclusively oil based wiping stains, not alcohol dye, lacquer or water based furniture stains. The colors that we can achieve are determined by both the oil stain color and the wood species. Some red and/or deep colors cannot be satisfactorily achieved using our methods. When these colors are desired, the services of a millwork specialty contractor who can shop finish using a wider variety of products should be enlisted. As the trend toward shop finishing of millwork and doors continues, we find ourselves doing less and less wood finishing. But as long as there is a need for on-site millwork finishing, we will continue to uphold the high quality standards of this service.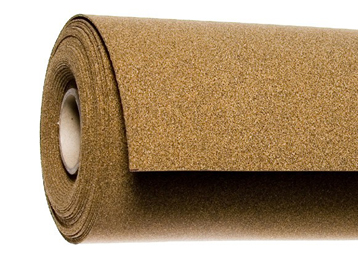 Tackable Wallcoverings and Cork
Sometimes cork is installed as a finished product, but more often it is covered with fabric wallcovering. This provides a tackable surface suitable for map pins with a very attractive finish. An alternative is Walltalkers Tac-Wall. Tac-Wall is a linoleum/cork wallcovering that comes in a variety of integrated colors. Tac-Wall is "self-healing," meaning that when map pins are removed, the hole closes back up. This helps keep it looking fresh and new for years. Additionally, it is hygienic and bactericidal and can be wiped clean with a damp cloth. Whether you prefer the custom look of fabric covered cork or the more modern look of Tac-Wall, we can promise you a quality professional installation.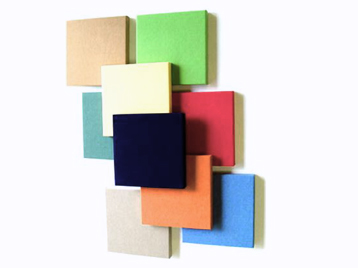 Fabric Wrapped Panels
The use of fabric wrapped homosoate panels is growing in popularity. Usually this is a joint effort between R.L. Harkins, Inc. and a drywall subcontractor. The drywall contractor furnishes and cuts the homosoate panels to size. Then we prime the panels on both sides and all edges. This prevents the common problems of warpage, cupping and odor even in high humidity conditions. We then furnish the fabric wallcovering material and wrap the panels with it. Finally, we return the panels to the drywall contractor for installation. Depending on the application, a millwork contractor may be used instead of a drywall contractor.